The day I officially began this blog March 14th, 2012, was also a noteworthy day for something else. On that day back i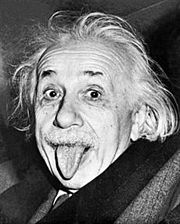 n 1879, Albert Einstein was born. Today his name is synonymous with not only "genius" but also for making faces.
But it doesn't end there, March 14th is also designated as Pi Day and National Potato Chip Day. What better day to launch this site than on such a trifecta day as March 14th.
Many years ago now, I heard Danny Shelton share the story of 3ABN's birth, and in that testimony he spoke the words, "we need to counteract the counterfeit…" which I never forgot. With so many attacks on Christianity and the Seventh-day Adventist Church, this is my attempt to be an apologist and defend the truths needing defense, and expose the areas in need of exposure. I have no idea what this site will become or even the future of it, but in time I am even willing to welcome other writers to contribute. I will post more on that at another time, but till then, visit often, tell your friends, and offer feedback.
Disclaimer: I do not make any claim to the trademarks Adventist, Seventh-day Adventist, SDA, or any other trademark mentioned on this site unless otherwise specified. I am a Seventh-day Adventist member in good standing with my church and any "official" Seventh-day Adventist representative wishing to know who I am is welcomed to inquire.